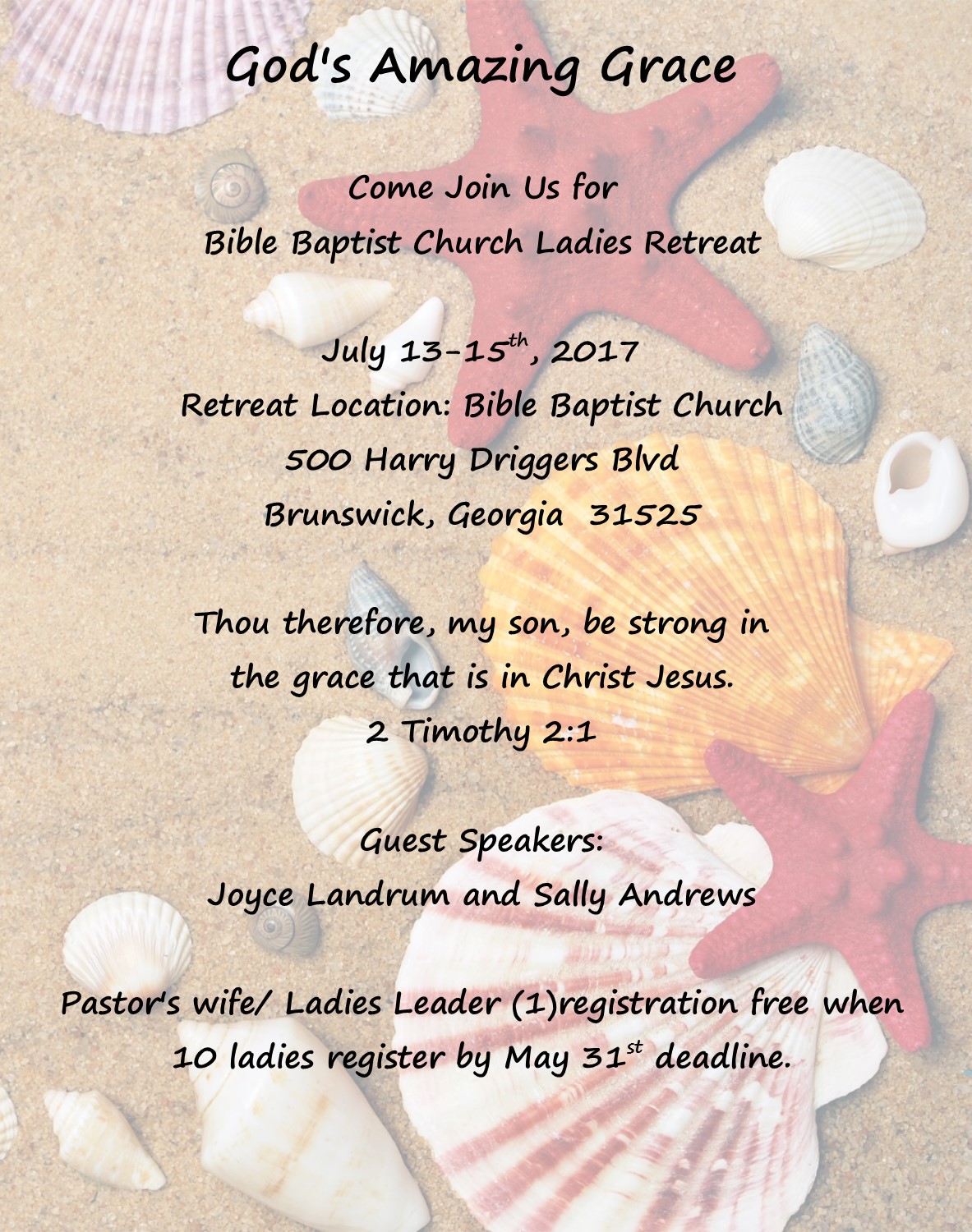 Retreat Cost: $40.00
$20.00 Registration deadline May 31, 2017
Name: _______________________________________________
Mailing Address: ______________________________________
Email: _______________________________________________
Phone Number: _______________________________________
Home Church: _______________________________________
Shirt size: S/M/L/XL/2X/3X
Food Allergies: No or Yes______________________________
Paint with Me (additional $30): yes or no
(Minimum of 10 ladies required for this to be scheduled.)
Pastor's wife/ Ladies Leader (1) registration free when
10 ladies register by May 31st deadline.
***Closed circuit television located in nursery for nursing mothers***
Rooms have been reserved at two hotels at a discounted rate. Please contact the hotel directly by June 1, 2017, at the number provided, and reserve with a credit card,
using the group name: Bible Baptist Ladies Retreat.
Best Western Plus Brunswick Inn & Suites Comfort Suites
126 Venture Drive 25 Ashton Drive
Brunswick, Ga 31525 Brunswick, GA 31523
(912) 265-1114 (912) 267-4440
*King bed, pull out couch (sleeps 2-4) *King bed, pull out couch (sleeps 2-4)
$104 per night + 11% tax + $5 Ga fee $87.99 per night + 11% tax + $5 Ga fee
*2 Queen beds, pull out couch (sleeps 2-6) *2 Queen beds, pull out couch (sleeps 2-6)
$104 per night + 11% tax + $5 Ga fee $95.99 per night + 11% tax + $5 Ga fee